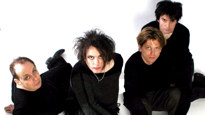 I just thought I would check my email before I went to bed…and what do I find?
The Cure, after farewelling Australia all those years ago…are back.
I have to go. You don't understand. I HAVE to go.
They are a band that has shaped me and changed my life when I was young. I was a late-comer to the bandwagon, but when I bought Wish on a whim, I fell in love and now have everything they've made.
The Cure are one of those bands that only certain people like. Am I destined to go alone?
Someone….anyone. Who wants to come with me?
Friday the 10th of August. Sydney Entertainment Centre. (up to) 120 bucks.
Pre-sale opens on Tuesday. Don't let me go by myself….but I will if I have to!